If you update your Google Business Profile regularly you may have noticed that for a few months, you have been offered the option to either update it 'on search' or 'stay here'. Well, that is no longer the case.  You can still log into your Google Business Profile but for an edit you want to make these will be done directly on Google Search.
Nobody likes change much and even a new layout in the supermarket can set me off so having to find a new way to analyse, review and update all my clients profiles was not welcome news this morning. However, it did inspire a blog post so not all is lost.
If you are used to updating your business through the profile page I have outlined below what changes there are and ow to use it.
What managing your Google Business Profile on Search looks like…
The 2 companies using my name to trigger adverts are very flattering but try to ignore them!
As you can see the tools you had previously been using are all still there such as edit profile, read reviews, add photos and add update.
Let start with the positives….
If your post is rejected (and let's be honest they have been known to reject even the blandest of posts for no apparent reason) they will now email you to let you know which is new. This is assuming that you are using the email address on your Google account.
You can still post news, events and offers to your business listing
You can still add images
You know get device data on your business profile which will tell you what devices your profile is being view on. Please note YOU SHOULD BE USING GOOGLE ANALYTICS FOR THIS ANYWAY (shouty capitals over)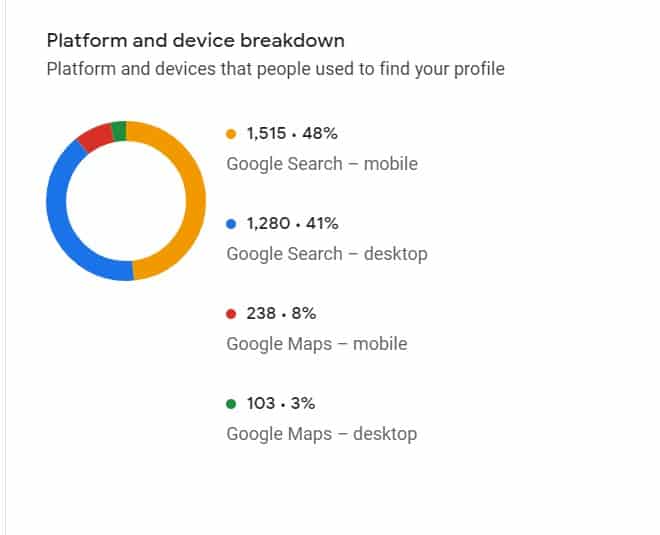 You can view your profiles performance in relation to the previous year
And now some negatives…
It is less user friendly for those working on a desktop or with multiple pages to manage (yes that's me)
You can no longer adjust the positioning of your images on posts, so unless all your images happen to be the Google Business image post size of 540x405mm you may lose vital parts of your image.
You can no longer control the order of your photos showing on a post. They are now randomised. If you are trying to tell a story with before, during and after pictures this is not ideal.
There is no longer the option to categorise pictures as' team' 'at work' 'inside' 'outside' etc,
If you click on any links in your past posts, it will open that link in the same tab, so you will need to log back into Google My Business once again. Always right click and open in a new tab.
Conclusion
I am certain that Google has made these changes to enable people to edit their profiles on a mobile device and without the need to log into the platform. Their hope I am sure is that more people will keep their listings up to date which is good for all of us using Google.
For myself, I will get used to it…. until they change it all around again.